I'm reposting one of my very early posts today!
At the party this weekend, my friend Julie suggested I smell her husband, Kurt. Now I don't usually get invitations from wives to inhale the deep manly scents of their husbands (LOL) so of course I could not refuse! Also, these two are not fragrance mavens and I was surprised Kurt would wear anything at all, since he is so involved in his main hobby, cooking, and I imagined he wouldn't want anything to get between him and the smells he conjures from the pan.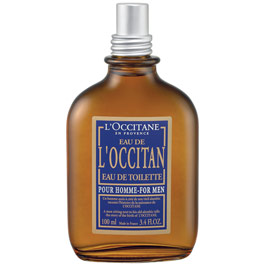 I was not surprised, therefore, to discover this fragrance to have a gourmand edge; the first thing that hit my nose was an accord of herbs and pepper, softened with lavender--perfect for my gourmet friend. I asked what it was, and was delighted to hear it was L'occitan PH; I tend to love l'occitane products, partly from good experiences with them (one of my husband's signature scents is Cade) and partly from nostalgia, since it was in a l'occitan shop in France when I was seventeen that I discovered that fragrances could draw me in. Before that, the synthetics and aldehydes always bothered my sensitive nose, but their natural approach provided a sort of gateway experience which prepared me to become the obsessed freak I am today.

Anyway, I got Kurt to let me have a spritz, and was assailed again with that fabulous pepper-lavender-herbs accord. I wore it around during the morning brunch, and enjoyed what was by then developing into a very spicy pepper/nutmeg/cedar combination that was powerful, yet played nice with my food. I can totally imagine women wearing this as well. The drydown--which happened hours later, when I was driving back home with my husband after this wild weekend of parties, was a sweet musky cedar, almost too sweet, but not quite. It lasted until I fell asleep, exhausted from way too much stimulation.

I think this fragrance is tops. it is complex and changes significantly over its lifespan but never grates. It is affordable and long-lasting. It is made by a company that I know to be conscientious and dedicated to an aesthetic lifestyle, and above all, it is just a beautiful composition.